Joan Irons
'Women need to understand their rights and know where to go for help when they need it. We need to be able to get the right help at the right time. We need to understand that there are boundaries in relationships - right and wrong - and we need to know that we can say no to anything that is inappropriate, to make us feel uncomfortable. We are in charge of our bodies.'
Shuwanna Aaron
'The class struggle, or the Women's struggle, or the race struggle. I don't think these things can be solved on their own, it has to be an approach that looks at them together. And I think in order for us to see that, we have to take a step back from our immediate issue and look at the bigger picture. If we're able to do that, we're able to see how we can include other people in these conversations and how we can do that in a positive way, in a way that can create change. And we can build spaces around this.'
Suki Wan
'Quite a lot more young people these days are getting involved in movements around racism, around feminism, around anti-sectariansim...There's a lot of insightfulness and a lot of knowledge among young people nowadays and it's about linking it back into the wider political framework.'
Yvonne Strachan
'Because it was about changing the way you think about gender equality and about women's positions...it was hugely important for changing the social position and the economic position for women'
Hear from Yvonne in episode 1 of the podcast.
Nicola Maksymuik
'Women have largely been underrepresented in archives. It's for various reasons; archivists historically not putting importance on women's papers, but also women not thinking their own stories are important. That's something that comes up and up and up again and again'
Mhurai Dzingisai
We are working with the stakeholders, with policy makers and we do meetings with them and we'll be arguing and fighting for asylum seekers and refugee rights as well. And we are happy because some of our thoughts are being granted and some we are still fighting until they have to hear us, at the end of the day.
Brenna Jessie
'I started to believe that my voice had power and that by speaking out I could actually affect change.
It's not always the change I want, and it's never as quick as I want it. But it is possible to use your voice.
And it's also important.'
Leslie Hills
'I sent a letter to all the men that I knew would be helpful towards us, and I was explaining that we wanted to set up an organisation that would take away all their power, and elaborated on this to some extent, and said that if they gave us money I promised I would not harangue them at dinner parties ever again.'
Hear from Leslie in episode 1 of the podcast.
Prof. Alice Brown
200 women all came together and what they were asked to do was to imagine a parliament that actually was 50:50, and what difference that would make to ordinary women.
And we weren't talking about just politically active women, and this again is one of the unique features of this - that it crossed party, but crucially, it actually was non-party.
It was just a lot of women, in all different walks of life, saying "this isn't right"
Hear from Alice in episode 1 of the podcast.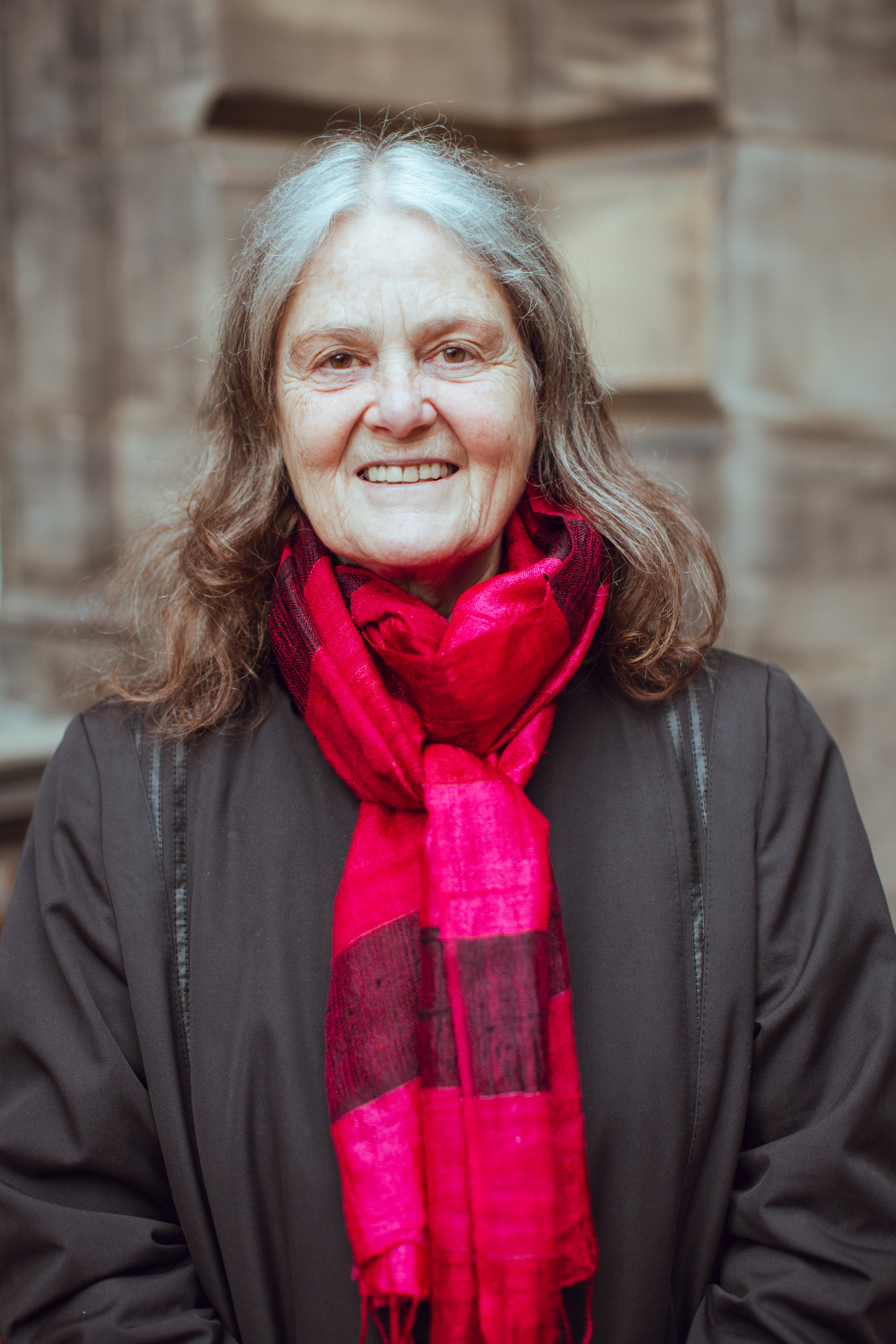 Dr Esther Breitenbach
'Sometime in the mid '90s there was someone who was doing research about women's organisations and the third sector, she'd assumed that because we were producing this publication, there was an office and stuff.
And we had to say '….no…there's not...'.
So I think that the gender audit gave a profile to the organisation.'
Hear from Esther in episode 1 of the podcast.
Lorna Alqhuist
'In a way I sort of left 'older women' behind a bit, but I did notice when I looked back at my CV that I ran the older women's network for about two years, which was again an attempt to create a feminist older women's network. There are in existence various things, but nothing really national.'
Talat Yaqoob
'I hear a lot about 'there's a woman First Minister, therefore what more could you possibly want?'
Well actually quite a lot, because that's a surface level issue, and it's a lot on one women's shoulders.
One woman in a position of power does not mean that power is equal, and how power is shared is a major issue.'
Fatima Ramzan
'One of the great things in the centre, touch wood, has been that we have got a very very good work ethos, and the diversity of our staff actually reflects that as well. We do obviously have a wealth of knowledge and experience between all the staff and colleagues, and where we need to share an experience and ask each other for support it's always there.'
Emma Ritch
'We need boldness, we need creativity.
We imagined those solutions that we've created so far. We put a name on things like sexual harassment and it's time for us to continue to do that into a new age of feminism.'
Patrycja Kupiec
You always have that feeling:
"I should be doing more, I should be taking up more space".
But then without taking up so much space that you are labelled 'too ambitious' or 'bossy' or 'a bitch'.'
Angela O'Hagan
'One of the things, and Ailsa McKay was really instrumental in this; opportunism, and just being a bit gallus really. Because you can! You can just take a punt at things. And so we were pushing to have the ideas around gender budgeting institutionalised in some way.
We needed some kind of institutional mechanism to take this forward. It was all very well us coming to the parliament but there needed to be a way that you could anchor the analysis in some kind of process internally.'